Click on images below to see larger version
All-Occasion Card Pricing
Qty
Price Per Card
1 - 9
$10.50 each
10 - 24
$9.65 each
25 - 49
$8.76 each
50 - 99
$7.52 each
100 - 149
$6.84 each
150 - 199
$6.42 each
200 - 249
$6.10 each
250 - 499
$5.87 each
500 or more, please contact us 561-746-6746
Vintage Race Car Pop Up Gift Card – SOLD OUT
For aspiring automotive pioneers and other hard driving sorts, our Vintage Race Car pop-up greeting card is sure to appeal. The streamlined boat-tail shape featured on our card was the breakthrough aerodynamic design of it's day. Birthdays, Father's day, Any Day! Hand made from elaborately printed and die cut paper.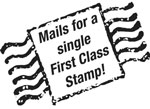 A matching blank gift tag is attached to each card for your sentiment – just personalize the tag for your occasion.
Testimonials
Cards Always On Display
I felt that I should send you a note of thanks for your fine services over the past 16 years. The ingenuity, uniqueness, and craftsmanship that you put into your pop-up cards is outstanding. Your customer service is Top-notch. A few years ago, when our order got lost in the mail, you outdid yourself in filling it just a week or so before Christmas. All year long, I get comments about the cards we send out to our customers. Our clients look forward to receiving them each holiday season. The other day, I was in the City Clerks office of a Town Hall, about 60 miles from here, and there on a shelf was a display of all the cards that I had sent her over the years. Needless to say I was quite surprised! Thanks for the great work! Keep it up!
Peter F.
Plumbing & Heating Co., Billerica, MA – 16 year customer
Calendars Look Terrific!
I got my order of 250 calendars today, and they look terrific. As usual, I am a very satisfied customer, and the early delivery date was (a) pleasant surprise. Thanks so much for your prompt response to my order.
Toni P.
Insurance Co., Stafford, TX - 15 year customer
Calendars A Great Hit!
The pop-up calendars are a great hit… We really appreciate the special effort you and your staff put forth to insure they would be on time.
Carolyn S.
Eden Prairie, MN - 12 year customer
Hardest Part Is Deciding Which One!
Many thanks for the originality of your ideas and your personal service. We look forward to many years of continued business. We may be a small order but we are most appreciative of your company. The hardest part is deciding which one!
Rita and Larry O.
DDS, Orthodontists, Goleta, CA - 20 year customer
Thanks for Looking Out for Us
It's great how your company altered the size of the calendars to comply with new USPS regulations. We've been reducing our mail outs because of the rising costs and it's nice to see you guys looking out for us!
Kathy Y.
Attorneys, Honolulu, HI – 21 year customer
A Firm That Keeps It's Word
Thank you so much for the on-time delivery of our polygon calendar order. It is a pleasure to do business with a firm that keeps its word.
Judith D.
A Pleasure Doing Business with Graphics3
We are looking forward to receiving the new calendars as they are always so well done and greatly appreciated by those who receive them. It has always been a pleasure doing business with your company.
Susan M.
Automotive Co.
Courteous and Professional
I just want to take a moment to thank you for the courteous and professional way our request for two imprints on the calendars was handled by you and your organization.
Martha T.
Materials Handling Equipment
Thank You For Prompt Delivery
I wanted to let you know that I appreciate the effort you put into getting my pop-up calendars to me by the date that I really needed them. They look great. I am sure the persons receiving them will enjoy them for a whole year, and they will know who gave it to them and the services that we provide.
James H.
Corp.
Wonderful Service for Over 16 Years
Just a note to thank you for the wonderful service you have provided us over the years. I just want to tell you what a pleasure it is doing business with your firm.
J. Louis D.
Metals Co., Stafford, TX - 16 year customer