Click on images below to see larger version
Holiday Card Pricing
Qty
Price Per Card
1 - 9
$10.50 each
10 - 24
$9.65 each
25 - 49
$8.76 each
50 - 99
$7.52 each
100 - 149
$6.84 each
150 - 199
$6.42 each
200 - 249
$6.10 each
250 - 499
$5.87 each
500 or more, please contact us 561-746-6746
Majestic Theater Pop-Up Christmas Card Ornament
The bustle and excitement of a holiday trip to the movies! "Cinema" originated with Louis Lumière, but bright lights, flamboyant architecture and big screens made Hollywood king. Through film, Broadway entertainment met Main Street. Deliver your own memorable performance for the holidays and enjoy the singular applause.
Matching "Season's Greetings" or "Merry Christmas" gift tags display your signature on tree or table – or we can personalize with your name or logo. Envelopes, too.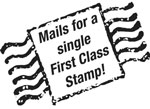 Mails for a single stamp!
Crafted by hand, this brilliant rubber band-activated card, pops up to stand 4 5/8″ wide x 5″ tall x 2 5/8″ deep.
Personalization
Gift Tag Imprinting: Your one line black imprint on the attached gift tag in all caps, or upper and lower case.  $45.00 minimum charge for orders under 100 cards. Over 100 cards add $0.45 per card. For logos please call. Only Christmas card orders for hand signing can be accepted after November 6th, 2023.
Envelopes: Your return address imprinted in black, centered on back flap per price table below. $58 minimum charge quantities up to 249.
| | |
| --- | --- |
| 250-499 qty = |  $.26 each |
| 500-999 qty = |  $.16 each |
| 1,000-2,499 qty = |  $.13 each |
| 2,500-4,999 qty = |  $.12 each |

Proofs for art are sent on request. Order Acknowledgements are sent to confirm personalization details and anticipated shipping dates.
How We Work
The wonderfully dimensional character that makes Graphics3's pop-up greeting card designs unique are only achievable through manufacturing by hand, a process that Graphics3 has performed to our customer's greater satisfaction for nearly 50 years.
Christmas Card Ordering & Shipping
Your credit card is not charged until your order is ready to ship. Orders begin shipping in the fall for the Holiday mailing season pending design popularity, availability and personalization services. Order Acknowledgements are sent to confirm personalization details and anticipated shipping dates. Proofs for art are sent by email on request. Graphics3 is a small family business; someone is here to answer your questions from 9 to 5 Eastern time weekdays.
While many keep and collect our cards for years, most customers prefer not to store cards far in advance of the holidays. If a specific delivery schedule is required, please inquire or indicate your desired schedule in the comment section of your order.
OUR GUARANTEE
Inspect our order on arrival and if you are not completely satisfied with your purchase simply return it to us in the original packaging within 10 days of receipt for a refund or exchange.
Testimonials
A Sensational Success with Customers
These have been such a sensational success with our customers that I do not ever wish to miss your latest creation. The run of the mill Christmas card is tossed out quickly and may not even been seen by the executive to whom it was addressed. Your cards are retained either on the secretary's desk or taken home by the executive and displayed or hung on the Christmas Tree. One of the wives has retained the entire collection and displays them year round! Thank you for such a grand product.
Robert M
Manufacturer, Mountainview, CA
The Best Value For My Advertising Dollar
I have been sending your pop-up Christmas cards for years now. I cannot count the number of times throughout the year that I deal with a client or supplier and your cards are mentioned… The response is always terrific… With a limited advertising budget, these cards serve two purposes, one they are looked forward to each year with great anticipation by everyone who receives them, two they are remembered for a long period of time. It is without a doubt the best value for my advertising dollar that I spend each year. In these tough economic times every little edge helps and it is my opinion that these beautifully designed, well made cards have certainly helped keep (us) moving ahead.
Walter S
Travel Services Co., Ridgewood, NJ - 14 Year Customer
A Source of Delight to Clients
Your creative greeting cards have been a source of delight to my clients and friends over the last 16 years. As an owner of a market research company this avenue of communication is a positive advantage to me in terms of client relationships.
B.J.M.
Marketing Agency, Media, PA – 16 year customer
People Mention Your Terrific Cards
I want to tell you that you have one Hell of an operation. I have been a customer for six years. Never sent Christmas cards before…don't really care to receive cards from my insurance broker, etc. Your cards are a whole different matter. I work in a ski resort town, so business is seasonal but even in June and July people mention your terrific cards and ask not to be taken off my Christmas list. They collect them and pull them out every year to display them.
Duane E.
Real Estate Co., Truckee, CA – 6 year Customer
Closing a Sale Because of These Cards
Greetings! I can't believe it is that time of year again! The response to the cards grows as the years go by. I am closing a sale this week because of these cards; my client said, "I called you because of those cute little cards you send me every Christmas.
Nancy A.
Realty Co., Livermore, CA
Cards Always On Display
I felt that I should send you a note of thanks for your fine services over the past 16 years. The ingenuity, uniqueness, and craftsmanship that you put into your pop-up cards is outstanding. Your customer service is Top-notch. A few years ago, when our order got lost in the mail, you outdid yourself in filling it just a week or so before Christmas. All year long, I get comments about the cards we send out to our customers. Our clients look forward to receiving them each holiday season. The other day, I was in the City Clerks office of a Town Hall, about 60 miles from here, and there on a shelf was a display of all the cards that I had sent her over the years. Needless to say I was quite surprised! Thanks for the great work! Keep it up!
Peter F.
Plumbing & Heating Co., Billerica, MA – 16 year customer
Cards Blew Us Away!
Got one of your cards & blew us away! We take pride in the cards we send out and usually get very positive comments on the quality and design … but nothing to match your cool ones! Looking to see what your (new) Christmas offerings will look like!
John C.
Pres., Medical Group, Centereach, NY
31 Years of Sending Graphics3 Cards
Congratulations on 33 years of beautiful cards/calendars, as well as excellent service! My husband and I have sent your cards every year for about 31 years! Our family and friends eagerly await our card each Christmas. After our moms' deaths, we were pleasantly surprised that mom had kept the pop up cards we had sent as part of her Christmas decorations! Please thank your staff and artists (especially Mr. Hess) for their creativity!
Ann & Ray K.
Signage Co., Mt. Prospect, IL – 31 year customer
Ann Innovative Way to Interact with Customers
As customers of Graphics3 for 12 years, we have received many compliments about your cards over the years. They are not only fantastic Christmas cards, but a great marketing tool as many companies leave them up year round. Thanks again for an interesting and innovative way to interact with our customers.
Jan Z.
Tool & Engraving, Plymouth, MI – 12 year customer
A Unique Card and Product That Lasts Forever
During our 27 years of being in business, about 20 of those years have belonged to your Christmas Pop-up cards. In fact, one of our customers that have been receiving the pop-up card keeps them up all year long! Our/your card is THE only card that remains all year long for all to see. Many of our clients that are on our Christmas Card List usually call in late November asking what card they will be receiving this year. Our answer, "You will just have to wait and see." Thank you so much for a most unique card and product that lasts forever. Not many card companies can live up to that marketing success! As many years that you create innovative Pop-up Christmas cards, we will remain your loyal customer!
Bob G.
Promotional Sales, Seattle, WA